Hon. Stephen Dhieu Dau Ayik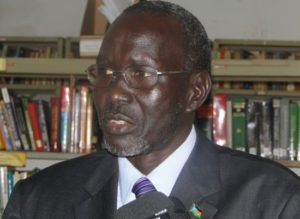 Stephen Dhieu Dau was born in Melut County, Upper Nile State. After completing his secondary school education in Renk secondary school (1982-1985), he was accepted at the University of Cairo, Egypt, where he studied and graduated with a Bachelor's Degree in Commerce in 1990. He holds a Post Graduate Diploma in Banking from the Higher Institute of Financial Banking Studies Khartoum in 1994 and a Master's Degree in Banking Studies from the Sudan University of Science and Technology, Khartoum in 2005.
Stephen Dhieu is a career Banker. He joined the Central Bank of Sudan in Khartoum in 1991, where he undertook several professional courses in various Banking operations in the Gulf and UK. He progressed in the Bank to a senior position in2005, one of the few South Sudanese Central Bank officials that attained such a position.
He provided technical support to the negotiating team the Sudan Peoples' liberation Movement (SPLM) on wealth sharing during the peace talks in Naivasha, Kenya during the negotiation of the Comprehensive Peace Agreement (CPA). He participated in the establishment of the two window Banking systems in the Sudan as stipulated CPA. More importantly, as one of the few SPLM members working in the Central Bank, he was a member of the CPA wealth sharing committee. He was also one of the Bank officials that oversaw the currency transition from Dinar to Pound in 2005.
Since then he has been the State Minister of Finance, Trade and Economic Planning in Upper Nile, the Minister of Commerce and Industry and the Minister of Petroleum and Mining.
EDUCATION
Masters of Science: Banking Studies, July 2003 – Sept 2005, Sudan University of Science and Technology, Khartoum; Republic of Sudan
Bachelor of Science (B.Com), Faculty of Commerce, 1986 – 1990 , Cairo University, Cairo; Arab Republic of Egypt
Sudan School Certificate (SSC), 1982 – 1985, Renk Co – Education Secondary School, Renk; Republic of Sudan
EMPLOYMENT HISTORY
August 1991 – May 2007, Worked in various Departments in Central Bank of the Sudan in Khartoum; Sudan and Bank of Southern Sudan in Juba.
May 2007 – June 2010, State Minister of Finance, Trade and Economic Planning, Upper Nile State; Malakal. Government of Southern Sudan
June 2010 – August 2011, Minister of Commerce and Industry, Juba; Government of the Republic of South Sudan
August 2011 – 2013, Minister of Petroleum and Mining, Juba; Government of the Republic of South Sudan
July 2013 – April 2016: Minister of Petroleum, Mining and Industry, (Reappointment), Government of the Republic of South Sudan
April 2016 – July 2016: Minister of Finance and Planning, Transitional Government of National Unity (TGoNU)