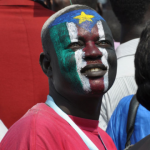 The South Sudan Development Plan (SSDP) is designed to drive the country's development during its first five years of independence, from July 2011 to July 2016. The SSDP is South Sudan's main development policy document. It commits the Government to work towards key goals and allocate resources accordingly.
As an initial overarching framework for nation building, the SSDP is designed to inspire all actors to work together on delivering a shared development agenda for the benefit of the South Sudanese people. The SSDP also guides the international community in targeting its support to the new Republic of South Sudan. Based on the theme 'Realising freedom, equality, justice, peace and prosperity for all', the SSDP pursues four key objectives:
Governance: build a democratic, transparent, and accountable Government, managed by a professional and committed public service, with an effective balance of power among the executive, legislative and judicial branches of government.
Economic development: facilitate diversified private sector-led economic growth and sustainable development which improves livelihoods and reduces poverty
Social and human development: promote the well-being and dignity of all the people of South Sudan by progressively accelerating universal access to basic social services, in particular health and education.
Conflict prevention and security: defend the sovereignty and territorial integrity of South Sudan, prevent the resurgence of conflict and uphold the constitution by providing equitable access to justice and maintaining law and order through institutions which are transparent, accountable and respect human rights and fundamental freedoms.
Rooted in careful analysis, the SSDP builds on the country's strengths and opportunities – including abundant natural resources and an energetic and hard-working people – to address the challenges in establishing a new state, tackling poverty, and ensuring peace and security.
Extension to 2016
While the SSDP was originally designed for the period 2011-2013, the Government decided in February 2013 to extend the implementation period of the SSDP to 2016 in order to streamline its planning initiatives. The SSDP will thus be the first in a series of five-year development plans leading up to the South Sudan Vision for 2040.